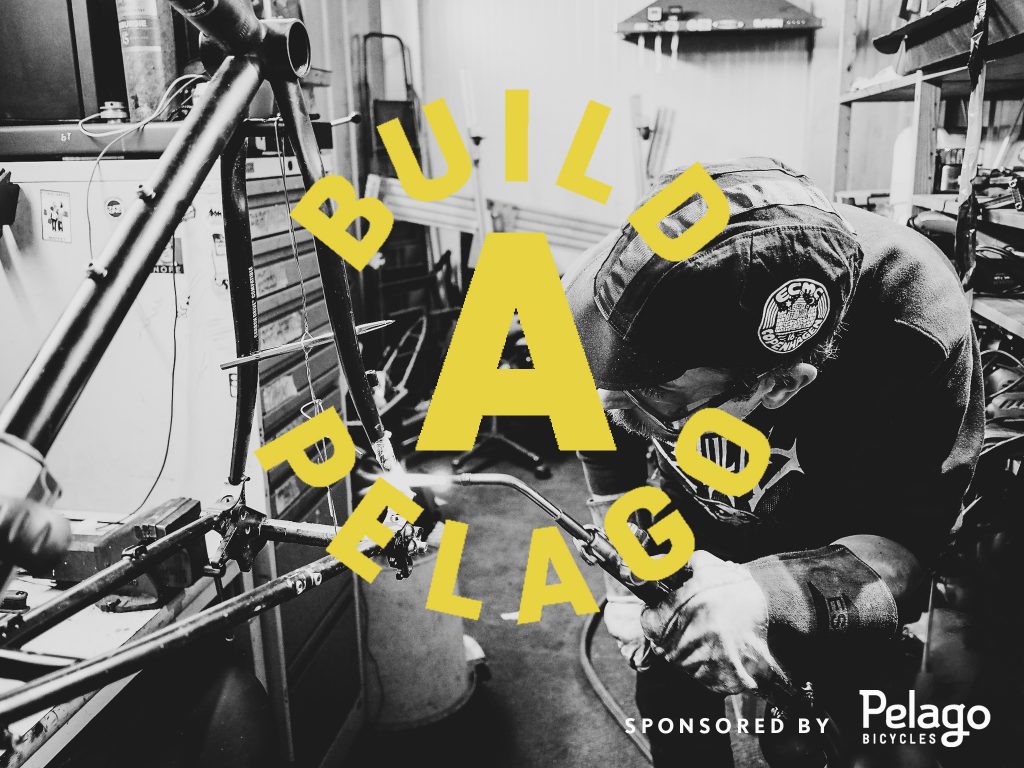 After a good six months of planning and building, the frame builders have finished their Build-A-Pelago-journey. The bikes were presented last Wednesday to the public in an Build-A-Pelago Exhibition opening party at Pelago Store in Kalevankatu, Helsinki. All the builds can now be seen there as the exhibition keeps going until September 19th.
Build-A-Pelago is a competition and where there is a competition, there should be a winner. The bikes will be judged by a Pelago jury as well as the public. Pelago jury consists of 5 experienced contributors around the bicycle industry. The jury's favorite is given a check and public's choice aka People's Champ gets a coffee and a cinnamon bun from the other builders. People's Champ-voting starts today so click here and give your vote for the best build! Voting time is valid until the end of Helsinki Design Week in September 19th.
Since we know many of our readers cannot visit our flagship store here in Finland, we'd like to present here the bikes and share the stories from the builders about their building process. Do yourself a favour, escape the rat race for a moment and read the Build-A-Pelago stories below – and vote for the bike you like the most!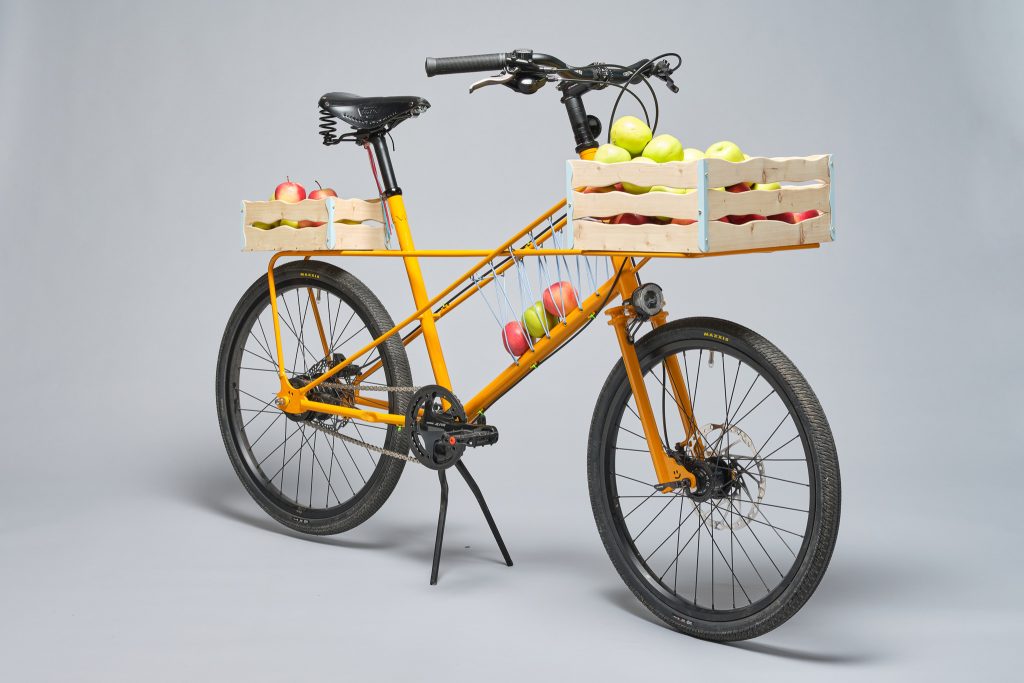 I thought there's a missing genre, the micro-cargo. A bike that can be lifted and carried by a single person into storage, subway, down stairs etc. The hauling capacity in bigger cargo-bikes is usually an overkill for a single or a couples house-hold. I wanted to build a compact sized, fun to ride bicycle that has ample cargo space.

I was inspired by the classic Finnish Jopo-style bikes that have a beautiful accessible design principle. They're meant for everyone. Second source of inspiration we're the Japanese tsunami-aid bikes.

I studied a lot of bikes with similar functions to find out the sweet spots between manoeuvrability, hauling capacities, stability and compact size. Building took me quite a while, since the construction isn't your average double diamond frame. I think the only ready-made braze-on's I used in this build were the bottom bracket shell, cable guides and head tube rings. Everything else was custom fabricated. I wanted to include fun details to make it stand out. The netting in between the tubes was a last minute idea I had, it adds up to the total cargo capacity and I think I haven't seen that before.

Pikkolo is made for small households living in the city where space is at a premium. I think my bike works best in getting groceries, park picnics and other short adventures where you need to carry more than fits into your backpack.

It was quite thrilling to build it up the first time and take it for a spin. It's a magical moment.

---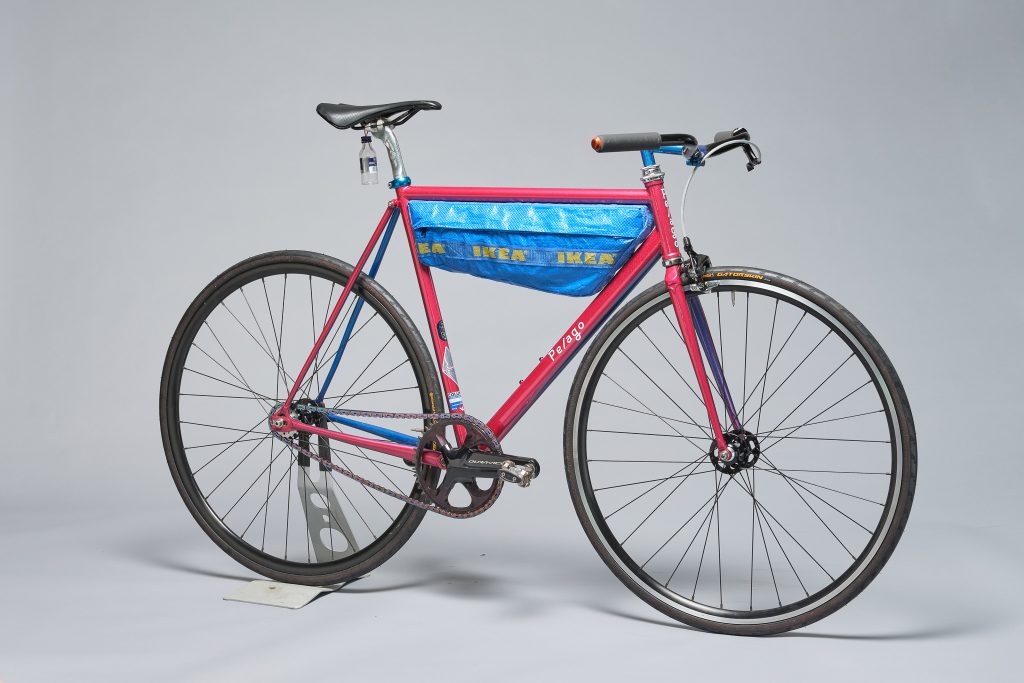 I had a lot of ideas for what Pelago would need: an MTB, a big BMX for city shredding, a road bike and a fixed gear bike to replace the San Sebastian etc. Another angle for the project was the split bike concept I have been working on: A regular size bicycle that can be easily broken down to a compact package. I chose to build the bicycle I needed: A fixed gear split travel bike for city hopping by bus, plane or train.

Most split bikes follow the same philosophy as Tom Ritchey's Breakaway of parting the rear and forward triangles. These designs use precision machined components but I want to make mine as simple as possible. I'm using regular off the shelf bolts in the construction. I still have a few ideas untapped for the split bike concept – a swappable rear to change the bike from a fixed gear to a geared bike.

When I made my first split bike with this compact travel design, I called it flatpack. This inspired me to incorporate some Ikea aesthetics to the build in the form of a frame bag. Ikea bags are used for hauling everything. In the last legs of the project our small workshop was packed with people struggling to bring their ideas to fruition. It was amazing to work side by side with other frame builders! I hope to do it again.

As for the competition and Build-a-Pelago show, I am still sleeping poorly as every night I wonder if I have let down Pelago, and humanity in general, with my concept.
---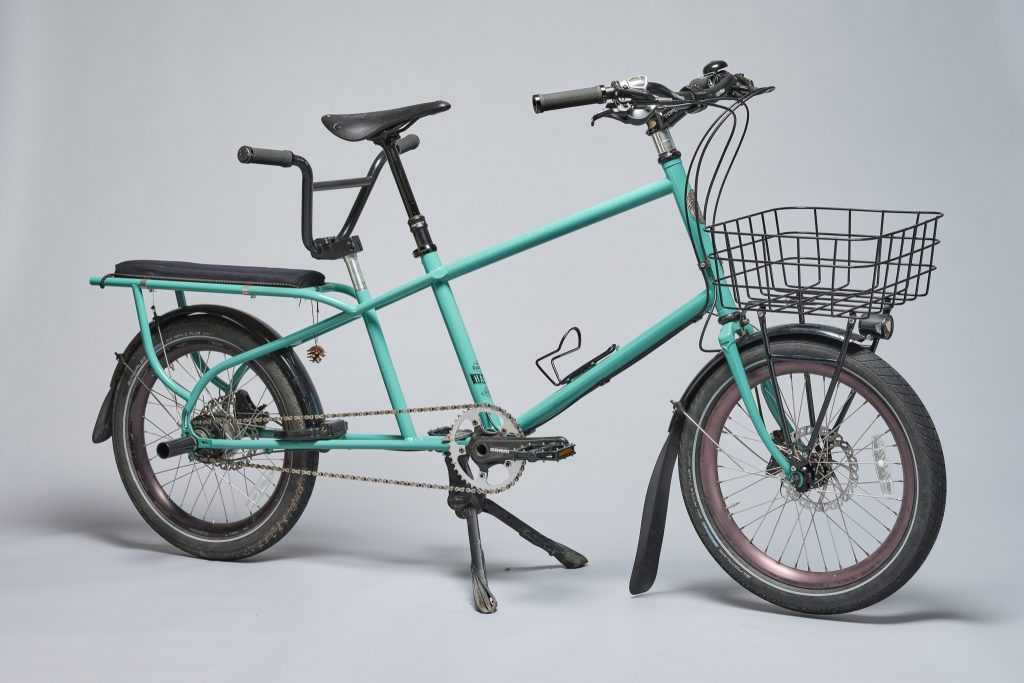 I used to ride my Linahammar style cargo bike day in and day out, until last year I replaced the ride with a Pelago Stavanger. Since then, I've been missing the hauling capacity. First I was planning some cycle truck styled frame, but after some iteration the plan was clear. In addition to moving stuff, I also wanted to drive the kids around. I ended up with a 20" wheeled longtail. I modeled the frame on 3D software called Rhino, and also used the model as drawing for manufacturing.

I started the build quite early in January, but somehow the building took rather long. I had hard times figuring out the rear rack, but a couple weekends with the fellow builders helped a lot. After all, I am very pleased with the result. The bike rides like a dream and is capable of carrying plenty of weight. I use the bike nearly every day and it is always a joy to take it out for a spin.
---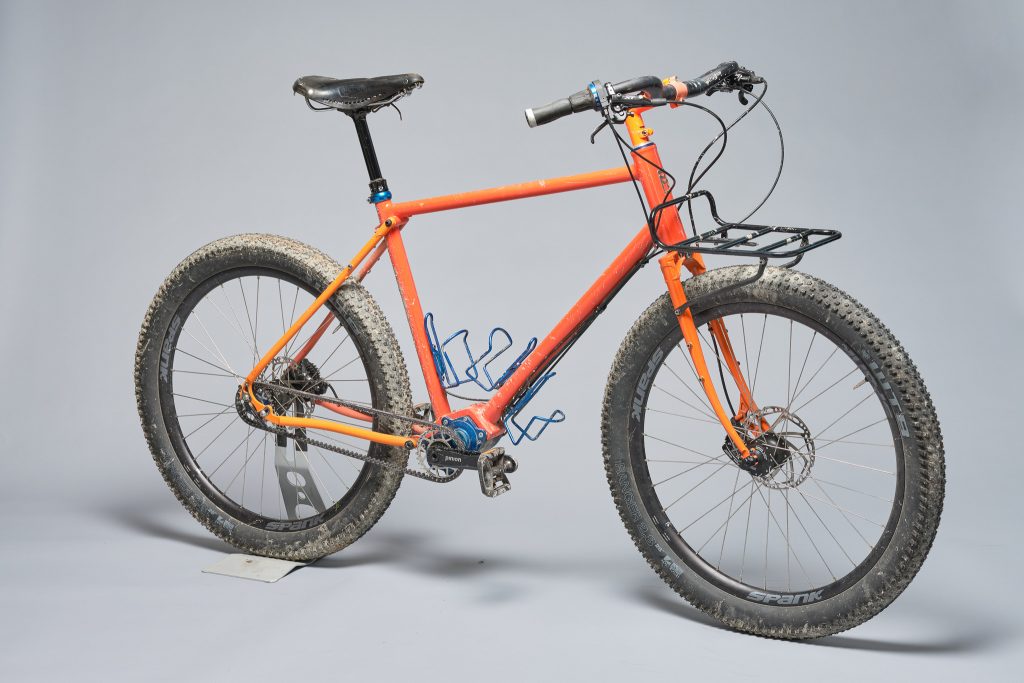 My favorite form of cycling is biketouring and bikepacking, and this bike is my take on the do-it-all touring bike. The bike has been designed for comfort on long days in the saddle as well as good handling under load. The geometry accommodates several wheel sizes (26+, 27.5 × 2", 28 × 1.5") depending on the use and the drivetrain with the Pinion gearbox with Gates belt drive should make for a care- free touring and easy maintenance. If anything should break while on the road (as it inevitably does from time to time), easy replaceability of parts was the goal in this design.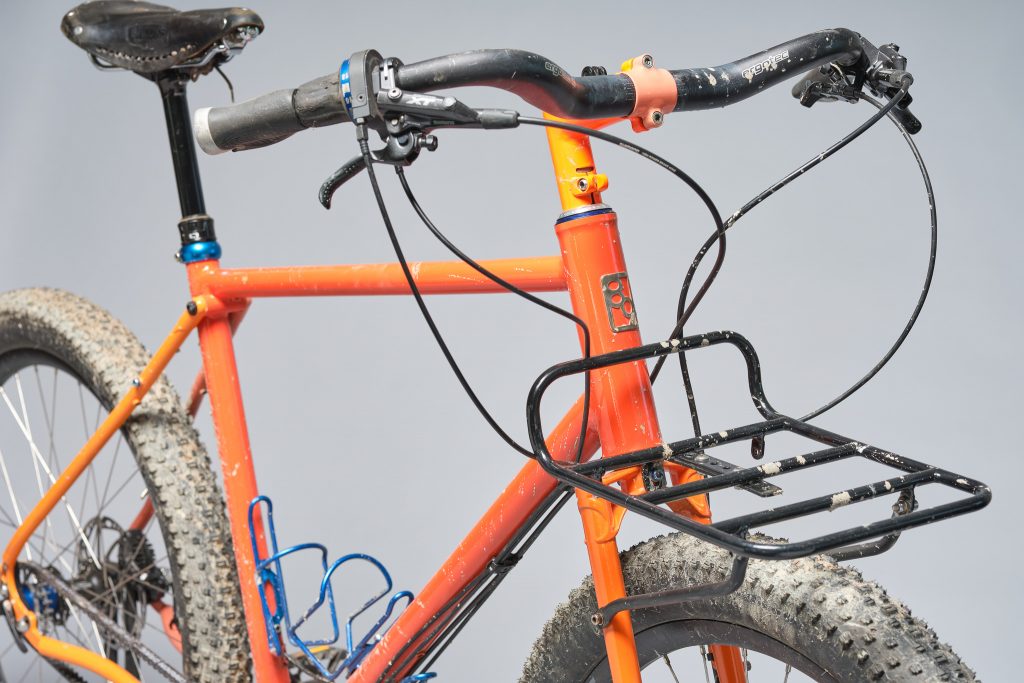 I often go multimodal on my trips, and this bike was designed with a folding rear triangle so that it's easy to transport in a car, train on a bus. I'm very happy how the mechanism I designed (and machined) turned out. It's built around a regular 12mm thru-axle that works as a pivot when folding, but also enables the rear triangle to be taken apart with an allen key in seconds. This means the bike can be packed small enough to fly as regular luggage without extra fees if needed.

The field testing for the bike has included two week long trips so far and the only features I find lacking from the design so far is a bell, as well a support for a kickstand, so I must say I'm fairly happy how the result turned out.
---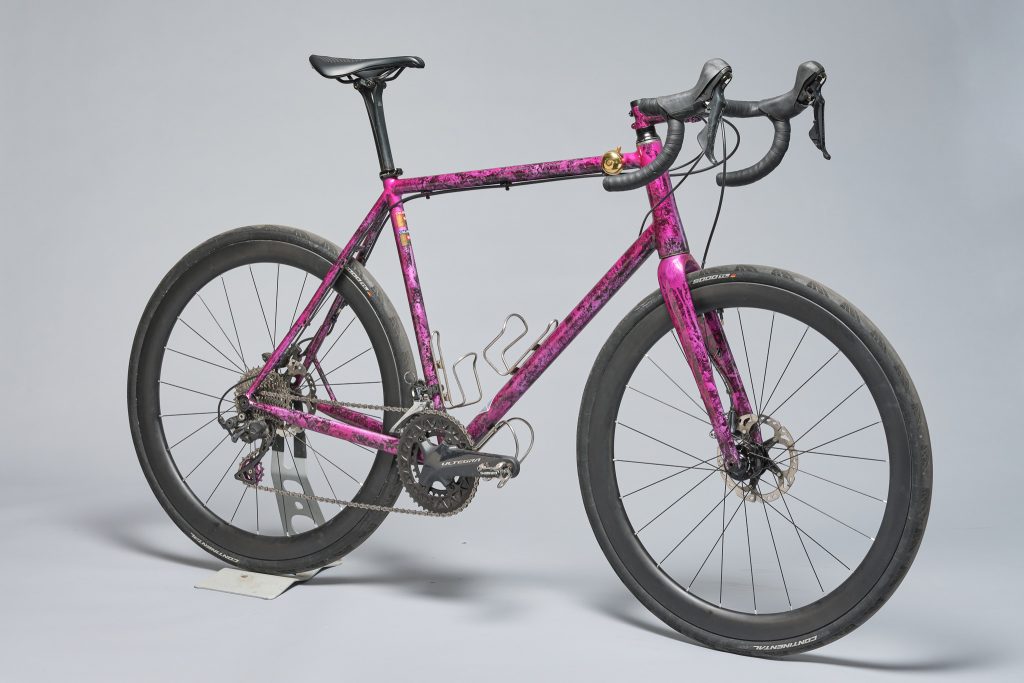 I wanted a comfortable and fun all-weather road bike. Lot of inspiration came from traditional randonneur/ audax bikes and current endurance road bikes, combining the classic steel aesthetics with modern components and geometry. The paint theme is a nod to 90s mountain bikes that are also a massive source of inspiration for me with their versatility.

Designing the bike was a long process of building my existing bikes in different ways, figuring out what brought out their best qualities, evaluating what needed improvement, riding other people's bikes, studying what other builders were doing for similar purposes and doing some good old guesswork.

I used Columbus Life tubing with a Spirit HSS tapered head tube and top tube. The large diameter down tube creates a responsive pedaling platform that is balanced by the skinnier top tube that gives the main triangle torsional flex for improved cornering grip.

It's always rewarding to finish something that you've been pouring your heart into for so many late nights and pushed through all setbacks. Taking it for a shakedown spin for the first time was a stream of emotions ranging from sense of accomplishment, odd familiarity when a new bike already had the fit configuration I'm used to and fear of death from effectively being my own crash test dummy – and of course relief after everything didn't explode! Naturally I noticed a million things I could've done differently but overall I was happy with the complete bike meeting my expectations and design goals so well.
---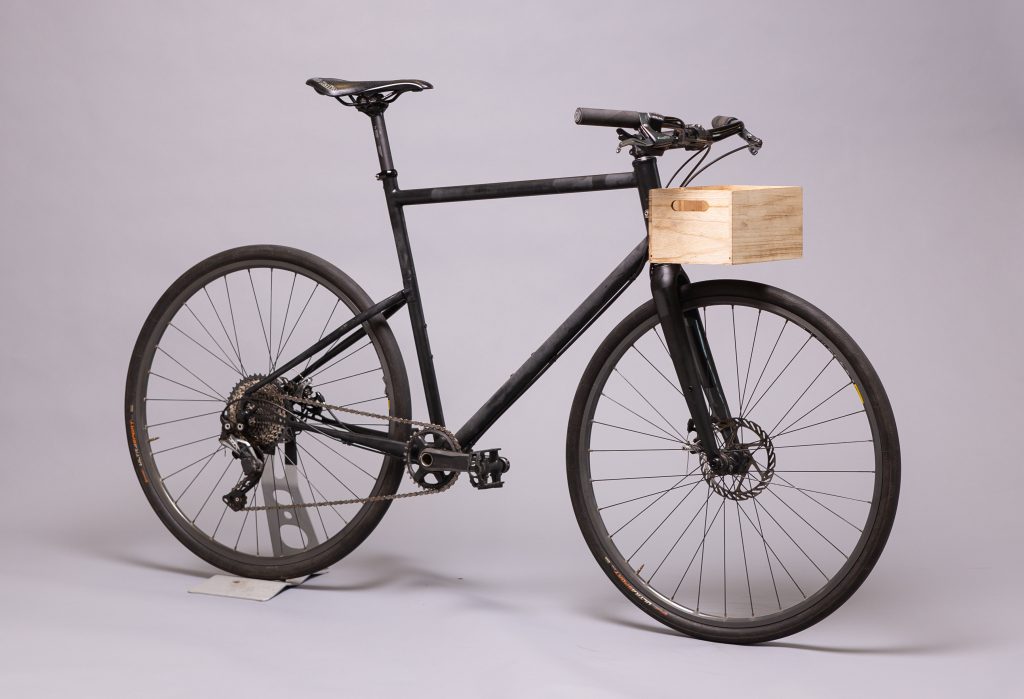 The inspiration for my bike comes from the "shooting brake" coupe cars of the 60's and 70's. So a sporty means of transportation that could still carry stuff, but not a serious amount of cargo. Perhaps a dead grouse or two. The main practical feature that sets it apart is a set of mounting points on the sides of the head tube. The mounting points allow the attachment of a rack or a set of water bottle cages or any other accessory that you can come up with.

I also prefer carrying cargo on the front of the bike, mounted on the frame, not the fork. This seems the most logical way to carry things, since the front end is the most rigid part of the bike. Mounting cargo carrying systems to the fork also tends to be impractical, since the front wheel tends to flop around when attaching things. Another detail on the bike worth mentioning are rear dropouts I designed myself and had laser cut a few years ago.

The geometry of the bike is basically taken from road / fast touring frames, with just slightly adapted steering geometry to compensate for any loads on the front end. I chose to use dropped seat stays for a sportier look, and I haven't done those before.

I do all of my tube mitering by hand, and fillet braze in my workshop, which just so happens to be in my living room. I built a free standing box/room with a workbench and shelving, and it also serves as my bouldering wall, media center and bike storage, all in around 4 square meters. It works for what I build – straightforward, simple bikes in steel that don't follow any trends or fads.
What is your favourite build? Say it HERE and vote for your favourite Build-A-Pelago-bike! Voting is valid until September 19th.
All Photos by Justus Hirvi