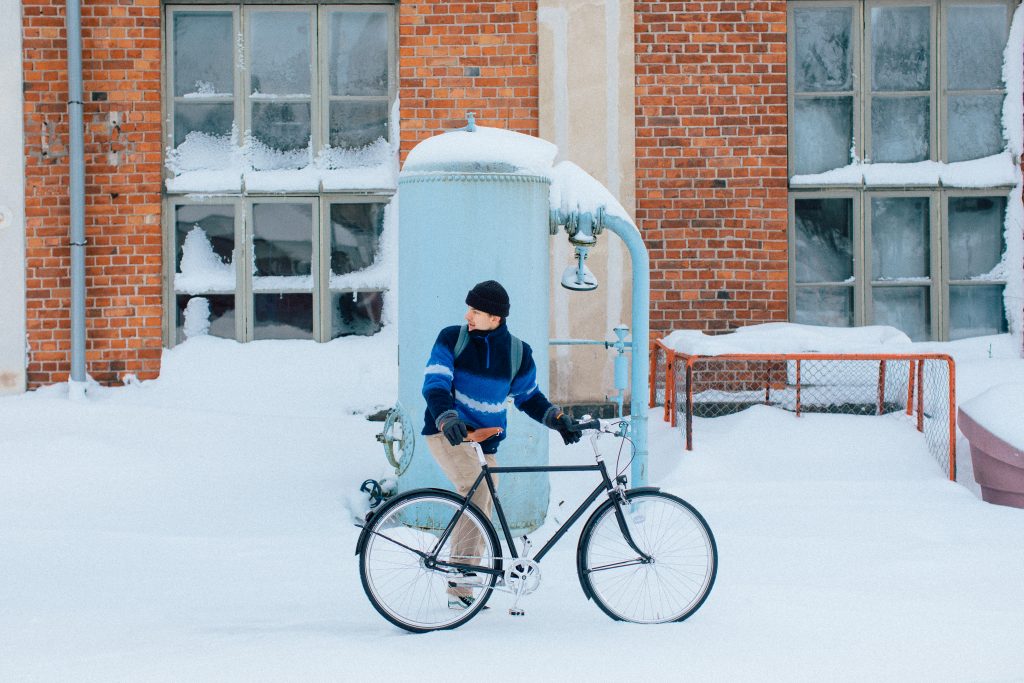 Lue kirjoitus suomeksi täällä
When winter comes and it starts to snow, especially here in Northern Europe, the bicycle often stays indoors waiting for the sunny spring. Winter cycling can however be as enjoyable as cycling in summer. Nowadays especially the most popular cycleways in cities are kept open and maintained even during winter, so it's possible to cycle year-round.
Winter cycling is possible with almost any bike without many modifications. If it's icy and slippery outside, you might want to invest into a pair of studded tyres, but if there's just a lot of snow, you might be fine with your summer tyres. Make sure your brakes work properly and remember that braking distance can be longer during winter even on the bike. If you do a lot of cycling on winter salted cycleways you should clean your bike from the salt and oil the chain regularly. Fenders such as Pelago Aluminium Fender Set can also help in keeping your backside more dry.
Days are shorter during winter months so you should always carry some cycling lights with you. You can't forget to bring your dynamo lights, but other bike attached lights are a great option too, for example battery powered Spanninga front and rear light. USB rechargeable Bookman Curve front and rear lights on the other hand are easily switched between bikes. With lights in your bike you ensure your visibility in the traffic and in Finland the lights are mandatory during the darker hours.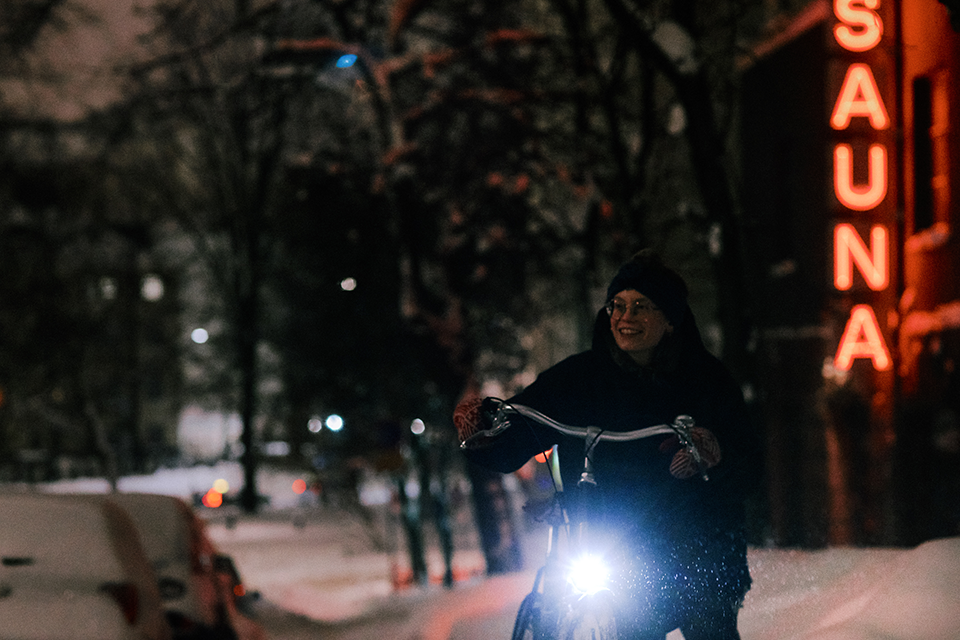 Dressing for winter cycling can be a challenge when the temperature first starts to drop. You always feel like you're either too cold or too hot. Rule of thumb in dressing for winter cycling or other outdoor activities is that if you feel slightly cold when going outside, you should be properly dressed for your activity. This should be in relation to the length of your activity.
Layers are recommended because you can trap more warm air in between the layers. The layer closest to your skin should be such that it wicks moisture from your skin. Favour merino wool or synthetic materials and leave your favourite cotton t-shirt home. Next layer is what brings you warmth. Merino wool keeps you warm even if it gets a bit wet so it works great as the second layer too. 100% mulesing free Pelago Merino Jersey or a warmer Pelago Merino Sweater are great options and you can find them in both mens and womens specific cuts. Both work well even in other activities or at the office.
For your outer layer you should choose something that doesn't make you sweat already once you leave the door. A shell or a softshell jacket are great protective outer layers especially if you have warm merino wool underneath. Legs are usually fine with a little less clothing because of the increased blood flow when cycling. Multifunctional Pelago Labourman Trousers offer a simple and stylish outdoor and office capable pair of pants that are breathable and wind resistant. For a warmer layer you can choose merino wool long johns.
Remember to also protect your neck from the wind. You can do that with for example Pelago Merino Scarf and Pelago Merino Neck Warmer tube scarf which you can also put under your helmet to keep warm. If it gets very cold a Pelago Light Beanie will keep you warmer and it still fits under a helmet. If you have left your helmet home or you are going hiking or cross country skiing, a warmer and bigger Pelago Traditional Beanie is for you.
Layered clothing in winter cycling and in winter activities is the key for making your time outside the most enjoyable. Add layers according to the temperature and keep in mind you can always take off layers outside if you get too toasty. Favour breathable and moisture wicking materials. Remember that if you are slightly chilly once you get out the door and start your activity, you are most likely dressed for it because you will get warmer once you start moving. For enjoyable winter cycling keep your bike serviced and working well too.